- May 3, 2021 -
Please don't park in the neighborhood!
By: Robin Sassenberg - In: Standard - 0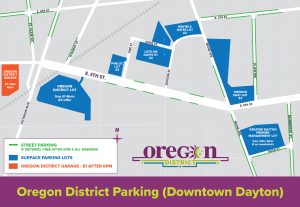 The businesses on Fifth Street are filled with gratitude for the extra business brought by your support, and Out on 5th, and at the same time don't want to make life harder for anyone.  Our visitors pull into the streets behind the businesses and find parking spots – it's okay if it's a few cars but it's dozens of cars, and most of our neighbors don't have driveways.  The residents can't find anywhere to park near their house to bring in groceries or take in their sleepy kids.  Our visitors coming back to their cars are sometimes pretty rowdy and loud. The neighbors' kindness and willingness to help support our businesses shouldn't make their lives harder.
There are literally hundreds of spots for parking; the ones north of Fifth St. cost $3, the rest are free or $1.
The parking garage and the lot behind Dubpub and Francos (access at Hugo St) sit empty most of the time and they are a closer walk than the neighborhood streets!
Please consider using surface lots or the garage next time you visit.  The businesses and our neighbors will be extremely grateful.
---