- October 1, 2015 -
Because Dayton is SPECIAL
By: Robin Sassenberg - In: Standard - 0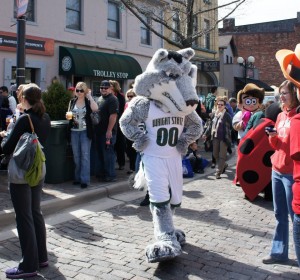 Fifth Street is receiving an award for being one of the top 5 "Greatest Streets in America".
Hurray!  Remember the other lists we have been placed on….why little ol' Dayton Ohio? There are just about 20,000 other cities in the U.S.!
Here are some of the lists:
Career Bliss' Happiest Cities to Work In #1 (Dayton beat Knoxville, St. Louis, and Honolulu)
Apartment Guide's Most Budget Friendly Metropolitan Area #6 (behind Tulsa, Memphis, Birmingham, and Columbus)
Forbes' Best Places for Businesses and Careers #133
Forbes' Americas Safest Hospitals (MVH—Kettering and Grandview have won awards also)
Zillow Talk's Best Gayborhoods in America – McPherson was #3, beating out Castro in San Francisco with 30%, and Grafton Hill was #6.
Zip Recruiter's Up And Coming Cities for Recent College Grads #3 (Behind Sioux Falls, Boise City, and before Fort Wayne, Des Moines, and Albuquerque)
Forbes' America's Most Affordable Cities #8 (Citing Cost of Living, Housing Opportunity)
Cheapest Homes for Sale #5 Also CNN Money #7 Dirt Cheap Housing
Safewise Safest Cities in America
Livability.com Best Affordable Places to Live #2 (Behind Round Rock TX, and ahead of Lawton OK)
Smart Asset's Worst City to be a Real Estate Agent #10- sorry, Michael Martin! (It's worse in New Orleans, Pensacola)
Advocate.com's Queerest Cities in America #1 (we beat out Atlanta, Madison WI, Salt Lake, and Boulder)
Road Snack's Ohio's Drunkest City
and some dubious claims to fame….
America's Emptiest Cities #9 (in good company, with Las Vegas, Atlanta, and Jacksonville)
Forbes' Fastest Dying Cities #4 (Behind Youngstown, Flint, and Scranton)
Forbes' Worst Places for Those Who Suffer Allergies #4 (behind Louisville, Chattanooga, and Knoxville)
Update! From www.Dayton.com
Dayton was recognized as one of The 10 Most Artistic Mid-Size Cities in America, according to GoGoBot.com.
No. 4 to be exact. The top 10 list was the product of the following criteria among mid-range cities:
Number of museums
Number of art galleries
Number of art schools and supply stores
Number of performing arts venues
…………………So keep it up, fantastic Dayton!
---